Catalyst for Change 2.0: 2023–2026 identifies a unique set of opportunities for both consolidating strategic initiatives currently underway and driving continued positive change.
Message from Dean Michael Coughtrie
During our most recent strategic plan Catalyst for Change: 2017–2022, we have made significant steps in advancing meaningful change and innovation in pharmacy and the pharmaceutical sciences.
In addition to our role as agents of change, we are all living and working through a period of profound global uncertainty. Health care systems are stretched to breaking point, acute social inequities persist, and the climate crisis increasingly threatens our existence. The value of pharmacy and the pharmaceutical sciences has never been greater.
We determined early in the strategic planning process that the structure of our recent plan continues to provide an effective framework for our decisions, actions, and accountabilities. In the current context, it seems prudent both to sustain what is working and to compress our planning horizon. It is accordingly my privilege and pleasure to introduce our next strategic plan: Catalyst for Change 2.0: 2023–2026. This plan identifies a unique set of opportunities for both consolidating strategic initiatives currently underway and driving continued positive change.
I look forward to working in continued collaboration with all those who share our goal of optimizing drug therapy in the pursuit of improved patient and public health outcomes: a timely and urgent manifestation of our university mission.
Michael Coughtrie, BSc(Hons) PhD FCAHS
Professor and Dean
Vision
To be a catalyst for change in pharmacy practice and the pharmaceutical sciences.
Purpose
We are innovators in education, research and practice, with the goal of supporting the optimization of drug therapy in the pursuit of improved patient and public health outcomes.
Commitments
We support our people, creating a diverse and inclusive community that enables excellence through collective action.
We foster an environment that promotes teaching, learning, and the development and translation of knowledge.
We work with partners to advance the role of pharmacists across the health care system.
We extend access for equity-seeking communities of learners, faculty and staff, and patients.
We seek novel ideas, putting into practice those with the greatest scope for sustained impact.
Priorities and Principles
Image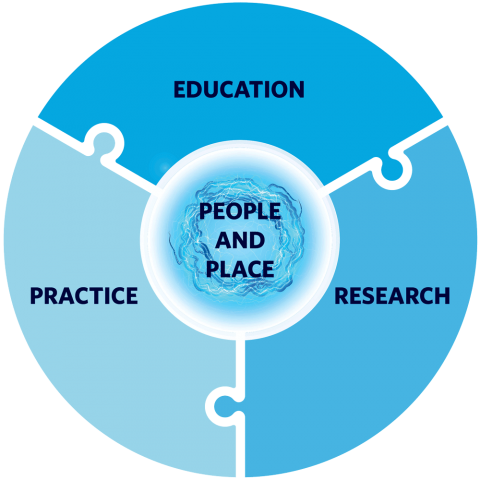 Core Areas and Strategies
People and Place
Decolonization, EDI, and anti-racism
Wellbeing, collaboration, and professional development 
Education
Student recruitment and support
Educational Innovation and Evolution 
Graduate and post-graduate program development
Research
Collaborative Research
Industry and Sector Engagement
Research resources and infrastructure
Practice
New models of care 
Continuing Clinic Development
Partnership in pharmacy practice evolution
Frequently Asked Questions (FAQ)
Why does the Faculty of Pharmaceutical Sciences have a strategic plan, and what do we use it for?
A strategic plan typically sets out an organization's vision and priorities, together with accompanying strategies. Catalyst for Change 2.0: 2023-2026 was developed as a continuation of our previous plan, Catalyst for Change: 2017-2022, to build on the direction for the Faculty over a three-year period, and bridge the transition from one Dean to the next. The plan drives the Faculty toward its vision through enactment of the various goals identified during the planning and consultation phase.
How does the new strategic plan relate to existing institutional strategic plans?
Catalyst for Change 2.0 is well-aligned with various institutional plans, including UBC's Strategic Plan Shaping UBC's Next Century, which was completed in 2018. A mapping process has determined that all actions in the Faculty plan relate to one or more institutional strategies.
In 2021 and 2022, the Faculty worked through the University's Indigenous Strategic Plan Self-Assessment tool and the Inclusion Action Plan, and identified a number of Indigenous-specific and equity, diversity and inclusion-focused priorities that are encompassed within some of the goals outlined in Catalyst for Change 2.0.
As well as the overall institutional plan, the Faculty plan also has some alignment with other plans from across the institution, both at the time of planning, and subsequently during its implementation; for example, UBC Health's Better Health Together.
The strategic plan refers to commitments and priority areas, what do these mean?
The commitments represent underlying principles for how the Faculty works, enabling both short- and long-term success.
The strategies have been articulated around four integral priorities that reflect all of our activities: People and Place, Education, Research, Practice.
How do the strategies fit within the plan?
Catalyst for Change 2.0 specified 12 individual strategies, informed by the priorities and commitments identified during the extensive consultation process. The strategies are grouped by priority area, and inter-related due to the cross cutting themes. Each strategy has been broken down further into specific actions, which will be used to facilitate implementation and progress as we head to 2026.
When was the plan launched?
Catalyst for Change 2.0 was launched in January 2023. Following turbulent times since the Covid-19 pandemic started in 2020 and an economically challenging environment, as well as the evolving future of pharmacy in the province, the plan provides a pathway forward for the Faculty in a fiscally responsible and sustainable way. 
How long will the new strategic plan be in place?
The plan covers a three-year period, from 2023 to 2026. Significant change is occurring in the world and the various sectors with which the Faculty interacts. During the period, the Faculty will focus on further consolidation and development to ensure the Faculty is well equipped to head towards the future. Progress will be tracked against the priorities outlined in the plan.
Where does the new plan apply?
A large number of Faculty activities occur in Vancouver at the new Pharmaceutical Sciences Building on Point Grey campus, located on traditional xʷməθkʷəy̓əm (Musqueam) land. However, many students, staff, faculty and practice educators affiliated with the Faculty live and work across remote and distributed sites in hospital, primary care, and community settings on the traditional lands of many Indigenous communities and First Nations. Several strategies look further afield than just the local area, across Canada or even further, to global partnerships. Catalyst for Change 2.0 guides activity throughout the entire Faculty and beyond.
Who decided what should go into the strategic plan?
Throughout 2022, consultations happened across the Faculty of Pharmaceutical Sciences, engaging students, graduate students, postdocs, staff, faculty and alumni. Additionally, town halls were held to gather input from alumni and external partners.
Consultation was extensive, and included surveys, retreat exercises, an external summit, interviews and discussion groups. Due to the Covid-19 pandemic many of these conversations were held in a remote format.
The discussions were shaped by the Faculty and an external consultant into Catalyst for Change 2.0. The Dean and Faculty recognize all those who provided their support and perspectives in the development of a clear and forward-looking plan.
How does the plan address systemic and professional changes?
The plan considers the environment in which we live, and the multiple forces in play that affect the professional context in which the Faculty operates. For example, the ever changing nature of healthcare and pharmacy, academia, the research funding environment, and the stakeholder landscape.
Across academia, there is a need to continually evolve to meet the needs of the modern world, with increased focus on collaboration and external focus, within a tighter financial environment.
What is the approach to implementation?
Implementation is driven by a number of individuals and groups within the Faculty. Overall oversight of the implementation of the plan is provided by the Senior Management Team (SMT), which comprises the Dean, Associate Deans, and Assistant Dean, Operations and Strategic Initiatives. Each strategy in the plan has an associated lead faculty/staff member or group who are responsible for driving individual initiatives forward and reporting on progress. The Faculty has a Senior Manager, Strategic Initiatives, who collaborates with each of those members/groups on an ongoing basis to determine progress, and identify facilitators and barriers to meeting the goals set out in the plan. The Senior Manager, Strategic Initiatives, supports the Dean and SMT in tracking and reporting on overall achievements on a regular basis.
How will we measure our progress?
For each strategy or action specific key performance measures and timelines are developed. Progress data are reported on an annual basis to give an overarching view of progress towards the goals in the strategic plan. Additionally, faculty and staff members will be asked to provide feedback on progress to determine resource needs, and help to determine any changes that need to be made or a redirection of goals.
What happens after 2026?
As the period for the Catalyst for Change 2.0: 2023–2026 strategic plan comes to an end, the Faculty, led by its Dean, will take time to reflect upon our achievements, the context in which we work and determine next steps in terms of setting new strategic priorities, building on the work completed during the period of 2023 to 2026.