November 30, 2021
Each year the Faculty of Pharmaceutical Sciences at the University of British Columbia educates almost 900 undergraduate students across three programs, and trains more than 50 graduate students. With over 6,000 alumni, the Faculty's legacy as a leader in pharmacy and pharmaceutical sciences education in British Columbia is unparalleled. 
Presently, the Faculty offers three undergraduate programs. The Entry-to-Practice Doctor of Pharmacy (PharmD) program is a four-year professional program that prepares graduates for careers in pharmacy practice across a broad scope of health care settings. The Flexible Doctor of Pharmacy (Flex PharmD) program is tailored to working pharmacists seeking to advance their current practice or explore new career opportunities. Finally, the Bachelor of Pharmaceutical Sciences program, launched in 2020, equips graduates for careers in the discovery, development, and production areas of the pharmaceutical, life sciences, biotechnology, and natural products industries.
Image
Dr. Marion Pearson's journey with UBC Pharm Sci began as a pharmacy student in the Class of 1982. She returned as an educator in 1983, and today serves as a professor of teaching. 
In reflecting on the evolution of education at UBC Pharm Sci over the years, Pearson notes that two major curriculum renewal efforts stand out as highlights in the area of teaching and learning.  
"The first is the development of the final iteration of the Bachelor of Science in Pharmacy program, led by Dr. Helen Burt during Dr. Frank Abbott's term as dean. The process was very inclusive, with all faculty members engaged and with excellent representation from the student body and the profession. One of the innovations was a set of program-level ability-based educational outcomes, which prompted a lot of creative thought about effective learning and assessment strategies and an increased emphasis on case-based learning and enhanced experiential education, with an earlier start to practicums," she says.
Image
The second highlight identified by Pearson is the development of the Entry-to-Practice PharmD program. 
"The development of the Entry-to-Practice PharmD resulted in a complete reorganization of curriculum and the way faculty members work together. It also allowed the Faculty to recruit an excellent cadre of staff in the areas of assessment, educational technology, and program support," says Pearson.
This sentiment is shared by Dr. Wayne Riggs, who served as professor, associate dean, academic, and dean pro tem throughout his 26 years with the Faculty. Riggs confirms that the development and approval of the Entry-to-Practice PharmD program was one of the most memorable projects of his tenure. The Entry-to-Practice PharmD program graduated its first class in 2019.
Image
Dr. Pearson underscores that the Faculty's work to educate the next generation of pharmacists and pharmaceutical scientists benefits from the expertise of faculty members who are leaders in the scholarship of teaching and learning (SoTL). 
"We are exceptionally fortunate to have several faculty members with PhDs in either education or psychology who have strong interests in teaching and learning, considerable collective experience in the scholarship of teaching and learning and more formal educational research, and a willingness to mentor and support colleagues in their SoTL efforts," she says.
Image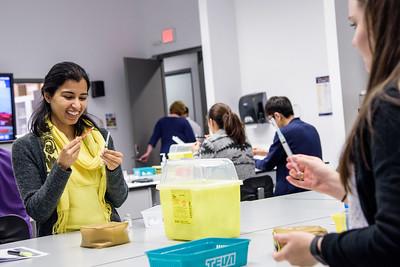 Dr. Sandra Jarvis-Selinger, professor and associate dean academic, also emphasizes that the Faculty's strengths in education primarily stem from its people.
"Overall, when I think of our strengths, I think of people first. The students, faculty and staff that contribute to and learn in our academic programs are outstanding. Since I came onboard in 2015, we have seen a growth in our academic programming and administrative support, enabling unit development as well as increases in the number and diversity of faculty and staff. All of this expansion is a strength and supports our strong academic mission," she says. 
"I am also proud of the comprehensive governance structures and polices we have built to support communication, transparency and decision making. In addition to the people and support structures, I feel we have built outstanding academic programs both in the clinical and foundational sciences. These programs showcase our amazing collective talents and we should be proud of everything we've done, are doing, and will do in the future."
To learn more about academic programs at UBC Pharm Sci, click here.
Images (from top): UBC Pharm Sci students in lecture theatre; Students at work in practice lab; Dr. Marion Pearson presents at a Faculty event; Dr. Wayne Riggs supervises pharmacy students; Students participating in practical learning activity.
---