March 30, 2023
On Monday, March 27, members of the UBC Pharm Sci community convened at the Robert H. Lee Alumni Centre to honour the accomplishments of Dr. Diana Chow, MS, PhD'81, the 2023 Faculty of Pharmaceutical Sciences Alumni Agent of Change, and Dr. Tarique Benbow, PhD'22, the Alumni Future Agent of Change. The occasion was presided over by Dean Michael Coughtrie and included presentations by the awardees followed by a reception.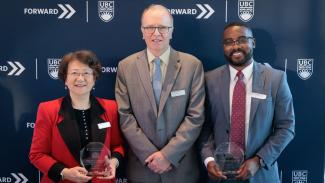 Dr. Diana Shu-Lian Chow is Paula & John J Lovoi Endowed Professor in Drug Discovery and Development, Professor of Pharmaceutics, and Director of the Institute for Drug Education and Research (IDER) in the University of Houston College of Pharmacy (UHCOP). Dr. Chow has been active, well-funded, and accomplished in research, education, and administrative services at the UHCOP for 42 years. Her research endeavors have resulted in an FDA approved product of Busulfan®, which is used in all continents and serves as the gold standard protocol for preparative regimen of blood, bone marrow, or stem cell transplant. Her innovative research in drug discovery and development led to multiple patents in various stages of development for clinical applications, for which she was inducted as a Fellow of National Academy of Inventors in 2016. 
On receiving the 2023 Alumni Agent of Change award Dr. Chow said, "It is a tremendous honour and I am deeply humbled by this recognition, as I know many alumni from UBC Faculty of Pharmaceutical Sciences who are equally—if not more—qualified for this award than I am." 
"I am grateful for my graduate education at UBC which I started as a timid international graduate student 47 years ago. My education and experiences in those years greatly shaped my following career pursuits." 
Dr. Chow has mentored 41 PhD and seven Masters students, and shared that "each student is so unique and precious. It is comforting to witness their professional and personal growth and develop deep personal relationships that last for decades after their graduations."
Recipient of the 2023 Alumni Future Agent of Change, Dr. Tarique Benbow, has always been an avid innovator and critical thinker. His professional journey began as an industrial pharmacist after completing his Bachelor of Pharmacy degree in 2014 at the University of Technology Jamaica. In his native country, he worked at P.A. Benjamin Manufacturing Company Ltd, where he helped the firm achieve ISO certification and optimize its manufacturing processes and quality management systems.
Currently, Dr. Benbow is a management consultant at Bain & Company, where he drives change on an international scale by designing sustainable solutions for the most pressing business challenges of diverse public, private, and non-profit organizations. Dr. Benbow credits his time at UBC for preparing him for his current role.
Dr. Benbow shared that he was able to develop a range of skills at UBC Pharm Sci that are essential for success in the field of management consulting. "One of the most important skills I developed was the ability to work effectively in teams. Through my coursework, I was able to gain experience working with diverse groups of people on complex academic projects. This experience has enabled me to understand how to effectively collaborate with others and manage team dynamics.  
Secondly, I was able to hone my leadership and communication skills through countless presentations and extra-curricular activities. This has been invaluable in my role as a management consultant, as it allows me to effectively communicate complex ideas and strategies to clients. Finally, I was able to develop effective problem-solving skills through my graduate research. Through my PhD research, I was able to gain an understanding of how to identify problems and develop creative solutions. This has been essential in my role as a management consultant, as it allows me to quickly identify the main issues and develop strategies for addressing them."
The UBC Pharmaceutical Sciences Alumni Agent of Change awards were created to acknowledge our alumni who have made significant contributions in a clinical, community, education, or research area with a local, national, or global impact. A selection committee is responsible for evaluating the nominations. To learn more, click here.
Image credit: Justin Lee Ohata, UBC Pharm Sci.
---