March 23, 2022
Dr. Linh Le recently joined UBC Pharmaceutical Sciences as an Entrepreneur in Residence (EiR) in partnership with entrepreneurship@ubc. Dr. Le has a BSc in chemistry from Vietnam National University, an MSc from Columbia University, and a PhD in chemical engineering from Stevens Institute of Technology. 
Image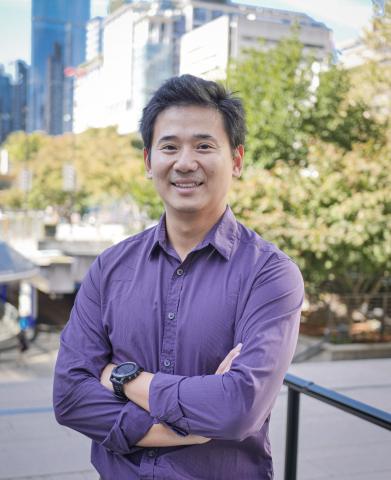 Image: Dr. Linh Le.
 
We spoke with Dr. Le to learn more about his experiences and advice regarding the world of high-tech ventures, and his goals as EiR at UBC Pharm Sci.
You are the founder and CEO of flextrapower, a university spin-off based on your PhD work on graphene material. Why and how did you make the shift from engineer to entrepreneur? 
Growing up in Vietnam, I was always interested in creating a business. Towards the end of my PhD I took some time to consider what to do in the next stage of my professional career. Most of the advice I received suggested I obtain a postdoctoral position. I took a different approach, not simply following outside advice, but listening to my inner voice. I thought about my skills and what I wanted to achieve in the next five plus years of my life. During my PhD I co-invented seven patents and I knew this technology had commercial product potential. I didn't want it to end up as a few published articles, patents, and a dissertation in the library. This is what led me to co-found flextrapower: to further develop the technology, build the product, and commercialize it. 
How did you manage the risk and uncertainty of starting a high-tech venture? 
All high-tech ventures have uncertainties such as technology, market, and management risks. As an engineer and first-time entrepreneur, I put a lot of thought and effort into managing technical risks when founding flextrapower. flextrapower's first three hires were engineers and scientists, and we spent considerable time solving technology-related issues. I consider that phase to be the "honeymoon period" for a startup company. 
 
During the next stage of the company's growth, we began to roll out prototypes to pilot to customers and incorporate feature changes into the product development process. As the CEO, I had to quickly learn and adapt different management styles and techniques so that the company could continue to make progress on our product offering. 
 
Looking back, I think that I enjoyed tackling technical problems the most. I also think that high-tech ventures are based on a certain level of scientific discovery or innovation, so it's necessary for anyone who is involved in an early-stage venture to be comfortable managing technical risk and uncertainty.
You are a board member, mentor, and advisor for many successful start-ups. What are some common key elements of successful healthcare start-ups? 
In the past three years working with dozens of startups in different fields—not just in the healthcare industry—I've found that the common key element for success is the quality of the co-founding team. When founders are building the co-founding team they should keep in mind that each member will have their own strengths and weaknesses, and each co-founder should be selected to complement overall skill sets. Secondly, the startup should be problem-focused. This means that the purpose of the company is to solve a specific "big problem" for society. Speaking from my involvement in healthcare startups, one of the big problems of the past decades is personalized cancer therapy. This area has the potential to save millions of lives and we're now seeing that many CRISPR-based companies are successfully commercializing. Lastly, the co-founding team must be willing to learn new things. They need to be coachable and willing to effectively delegate different tasks to other people on the team. 
What brought you to join UBC as an EiR at the Faculty of Pharmaceutical Sciences and entrepreneurship@UBC?
I moved to Vancouver with my family in 2020 and was introduced to entrepreneurship@ubc, where I started as a volunteer mentor in Summer 2020. In this role, I worked closely with several health technology ventures. I became interested in translational research, including personalized medicine, and I was appointed board member at Nanomedicine Innovation Network (NMIN) Canada. Through this appointment, I got to know many UBC Pharm Sci researchers including Dean Michael Coughtrie. 
 
I was fortunate to be at the right place and time, as entrepreneurship@ubc had just launched their Human Health Venture Studio (H2VS), led by Dr. Sean Lumb, associate director of entrepreneurship@ubc and Jonathan Jafari. I saw the potential for entrepreneurship@ubc and UBC Pharm Sci to collaborate. I received support from Kari LaMotte, managing director of entrepreneurship@ubc and Dean Coughtrie to create a joint collaboration between the two entities, which led to my current role as an EiR.
What are your top three goals in this new role?
As a whole, my goal is to serve as a knowledge bridge between the Faculty and entrepreneurship@ubc. Specifically, I would like to create a collaborative ecosystem with easy knowledge sharing between the two. I also would like to see more startups coming out of UBC Pharm Sci and participating in the various programs designed by entrepreneurship@ubc. Additionally, I'd like to develop a model for offering personalized support to faculty members. I believe that UBC faculties have specific entrepreneurial needs and I hope this model can be applied to other UBC entities. Finally, I'm excited to learn from the world-class researchers at UBC Pharm Sci as well as graduate students and postdoctoral fellows.
You will be working with undergraduate and graduate students as part of this role. Many times, students want to start a venture but feel stuck finding a specific problem and a solution that is economically viable. How can students think outside the box and ideate high-tech solutions? 
I'm eager to work with both undergraduate and graduate students and help to introduce them to a variety of entrepreneurship frameworks. When I first launched my startup there was very little information about how to get started. entrepreneurship@ubc offer numerous tutorials through Entrepreneurial Explorer for students interested in learning about starting a business, financing their venture, finding economically viable solutions, and more. 
What career advice has been most impactful for you?
"You will regret the things you didn't do, not the things you're trying your best at even if they fail." I used to consider myself a perfectionist and struggled with making mistakes. Nowadays I'm more comfortable and tolerant of failure. I know that I will continue to make mistakes and learn from them in my current and future endeavors.
---