May 16, 2022
As a PhD candidate at UBC Pharm Sci, Ariana Saatchi was in a unique position at the outset of the COVID-19 pandemic. With her background and experience in infectious diseases and epidemiology, Saatchi describes feeling "on the cusp of capable but unable to tangibly contribute" to the COVID-19 frontline efforts.
That all changed when she was approached to co-edit a new book together with Dr. David Patrick, professor, UBC School of Population and Public Health (SPPH). The book, titled Public Health Intervention for the COVID-19 Pandemic: From Virus to Vaccine, was published by World Scientific in April 2022.
We spoke with Saatchi to learn more about her experiences as a graduate student and newly published editor.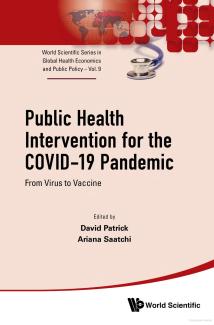 Can you describe your role as co-editor of this volume?
As co-editors, Dr. David Patrick and I were responsible for the conceptualization of the book content, with subsequent edits, assembly, and indexing tasks shared amongst us. As the graduate teaching assistant for SPPH 520, from which this volume evolved, I feel incredibly lucky to have been embraced and supported by Dr. Patrick throughout our work together. It was also a fantastic learning experience, with Dr. Patrick allowing me to spearhead some edits or interpretations, then discussing them through and pivoting where necessary. From chapter outlines to penultimate drafts, followed by the final editorial process with the publishing company, it was an incredible journey to be invited onto, and trusted to deliver.
How did this project come about? When did you decide to commit to this project, given that the pandemic started and evolved so quickly?
The book was a unique collaboration between a UBC Graduate course within the School of Population and Public Health, and healthcare professionals working on the frontlines of the COVID-19 pandemic. Dr. David Patrick has taught SPPH 520 for many years, and I've had the privilege of supporting its delivery, in my role as a graduate teaching assistant (GTA), since 2019.
The book opportunity arose in December 2020 from Dr. Peter Berman, to contribute a volume on public health intervention to a larger series being pursued by World Scientific publishing. With the fervor surrounding COVID-19 research, and the reality of delivering a course on infectious diseases during a lived case study – Dr. Patrick and I decided to restructure the course to contextualize the SARS-CoV-2 pandemic, alongside usual content. We then queried the students in January 2021 to gauge interest and acquire consent to participate, which was met with excitement. As graduate students during the pandemic, I believe that the project provided an avenue through which to contribute to the public health response.
The book covers many cross-disciplinary topics. What do you hope people take away from reading this book?
I think one of the incredible strengths of the book, and what makes it such a unique publication, is that its contents are a snapshot of the pandemic from March 2020 through to April 2021. Written with only the knowledge and understanding available at the time, it's a testament to a specific global zeitgeist. I think that reading it through that lens is incredibly important as it really does convey a depth of knowledge and perspectives, limited by the unknown, and not yet known.
With respect to takeaway messages, I hope that readers attain a breadth of understanding for the intricate networks of research and intervention that comprise a single public health response, from virus to vaccine. Moreover, in reading the book in 2022, I hope it offers some affirmation of how much farther we've come in our understanding of COVID-19, while paying homage to the immense strides and heightened uncertainties, of the first pandemic year.
What was your journey like throughout working on this book? Was there anything you would have done differently?
I am so thankful to have been invited by Dr. Patrick to be a co-editor on this project, and it was such an incredible learning experience. Moreover, the incorporation of the book into my role as a graduate teaching assistant led to one of the most exciting semesters in my GTA career at UBC. There was always an open dialogue on the tasks at hand, and the expectations kept manageable with realistic time frames. I believe that in this regard, Dr. Patrick and I benefited as we were able to draw upon a well-established working relationship, both in my role as a GTA for his course, but also his as a member of my doctoral thesis committee.
What was the most important lesson you learned along the way?
I think March 2020, and the early days of the pandemic, were a pretty universal experience in so far as, whatever your day-to-day had been, it was no longer going to be possible. There was such a collective anxiety regarding the unknown. This book is a testament to the capabilities of our future healthcare leaders, as well as the incredible dedication of current professionals. The biggest lesson I learned for myself was to just stay involved, keep perspective, and contribute where I could.
Learn more about Public Health Intervention for the COVID-19 Pandemic: From Virus to Vaccine here.
Ariana Saatchi
ariana.saatchi@ubc.ca
---