The Pharmacists Clinic is located on the second floor in the Pharmaceutical Sciences Building at the UBC Point Grey Campus. Our address is 2405 Wesbrook Mall, Vancouver, BC V6T 1Z3.
Travelling by car
Parking is available at Thunderbird Parkade, located adjacent to the building.
Traveling by bus
Northbound Buses (Stop ID: 59715): 025, 033, 041, 043, 049, 70, 480
Southbound Buses (Stop ID: 51480): 025, 033, 041, 043, 049, 70, 480
Visit translink.ca for more information.
Finding the Clinic inside the Pharmaceutical Sciences Building
Go to the elevators located closest to the large display screen in the atrium (east elevators).
Image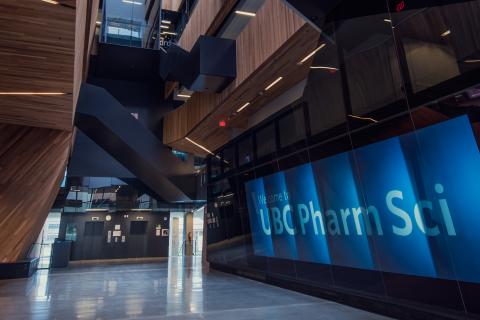 Take the elevator to the second floor and turn right after exiting. The clinic will be directly in front of you.
Image
If you enter the building from Wesbrook Mall, you can access the same elevators from the ground floor by walking straight to the end of the hall. The elevators will be on your left.
Image